Welcome to the website of Mary Mueller Shutan, author of The Spiritual Awakening Guide, Managing Psychic Abilities, and The Complete Cord Course.
•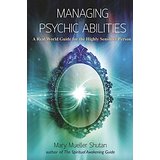 Managing Psychic Abilities: A Real World Guide for the Highly Sensitive Person
Approximately 20 percent of the population is highly sensitive or psychic. Learn to understand your psychic abilities and sensitivities and what category of psychic abilities you may be in (HSP, mildly, moderately, or highly psychic).
Sensitives and psychics need tools to manage their sensitivities… tools that are not commonly taught in this day and age. Learn how to work with your sensitivities and psychic abilities so they can be a benefit to your life.
Available through Amazon as well as other retailers.