Like many of you, I was deeply impacted by the death of Anthony Bourdain.
Such a death always creates an outpouring of memes, of support, of opinions one way or the other on how someone who seemingly had many of the things that we aspire to– a successful, inspiration career, a gregarious manner and friends who cared, an ability to connect and to voice his opinion, financial stability– and our questioning of how someone who seemingly has what we define in society as "success" could still be struggling.
As a society, the way that we treat our emotions, our lack of emotional intelligence and empathy is appalling. The thing about suffering is that we all experience it, we all experience the inevitable ups and downs of life, but that we all try to hide it. 
That trauma persists in isolation, that it creates the belief that we are the only one who is suffering.
Those of us who deeply feel are told by the world that such feeling is incorrect, wrong, pathological, and to be numbed, placated, or not felt so as not to be a disturbance to the whole.
We live in a world steeped in scientific materialism– it is considered the only valid reality– which means that spirit, as well as our emotions, are relegated to pathology.
Never is this more apparent than in the spiritual spheres. In the illusions and pretending of individuals who state that they are beyond feeling, much illusion serves to simply perpetuate the restrictive scientific materialist worldview through spiritual paradigm that feeling is not okay.
Such ideologies only perpetuate and exacerbate the collective shadow– the "othering" of emotions, the wearing of masks, and the deep fears of a sick society of anyone who is struggling or feels anything but numbness in this world.
If you notice this, you can begin to notice how societal conditioning wishes for us to lead lives of quiet desperation, and how even our spiritual ideologies perpetuate such conditioning.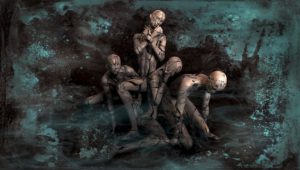 Over the years I have watched as the students who have been drowning in their trauma and existences to the point of me losing sleep worrying about their basic safety, have displaced their issues onto the spiritual realms, considering themselves "shamans" or similar so as not to look within.
I have encountered so many who believe they are enlightened when they are psychotic, who place all of their suffering at the feet of whatever spiritual label or experience they believe themselves to be going through.
This is the difficulty of living in a world that disregards emotions, that tells us not to feel. We live in such fear of feeling, of the words mentally ill that we will do anything, and create anything, so as not to be defined and "othered" by a world that so deeply fears its emotions and has so much unprocessed trauma and pain.
We are in the collective shadow of so many who look to the light because the shadow of suffering both personally and collectively is too much to bear.
It is the rather enormous elephant in the room that those suffering the most emotionally-mentally, the most fractured and distant from grounding in collective reality, will take the framework of spiritual awakening, of labels like shaman and empath and kundalini, to create illusion and delusion about their lives so as not to contend with the contents of their psyches.
The recognition that whether it is the spiritual awakening process or a spiritual call involves deep connection and grounding to collective reality (as well as many other realities simultaneously) and to the self, is curiously missing from these perpetuated ideologies.
It is also a rather large issue that those who are drowning in their lives will also become practitioners or teachers and try to tend to others while still drowning– we cannot be of assistance to others if we are drowning in our own lives. We must be ashore in order to have the clarity to assist another.
I do not wish to be unkind in this sentiment– there are plenty of practitioners who have walked the path of the wounded healer. But with clarity and the ability to step ashore comes the realization that when drowning, that tending to others must stop, and tending to the self is of the most importance.
It is also a large issue that those whom I have worried the most about over the years have inevitably turned to practitioners and teachers who are more than willing to tell them that all of their difficulties are because they are filled with demons, possessed, have ET implants, or affix many of the labels of spirituality to them because they are either taking advantage of, confused themselves, or drowning themselves.
These issues have caused more than a few existential crises in me over the years, and it is difficult for me to not view much of the spiritual marketplace as either serving to give rigid ideologies to keep people where one is (while giving the mask of spirituality), or perpetuating the harmful ideologies that prevent people from attending to their inner states of being.
To do spiritual work, to do it well, to spiritually awaken, means looking straight at our humanity. To become human.
It is a slog, often a thankless one in many ways, as seemingly the suffering looked at simply becomes another brand of suffering. That despite the light that comes pouring in, the ecstatic states, the revelation and realization, that to awaken means to deeply feel. It means to see past yourself, and when one does so the type of suffering that people struggle through daily, hourly, just trying to get through the day, is a profound thing to witness.
It is a hard clarity to witness the suffering of the world, to deeply feel it. We wish to believe that the world begins and ends at ourselves, and the illusions of awakening always point to this ideology. The truth that awakening causes for one to see past the self, to see another, to see the world, means that such awareness is not always a gift, but at times a painful truth.
As we awaken, we accept the world for what it is, and people for who they are, letting go of the desire to change or control them. That does not mean that all people, and the world, become beams of light, but that as we reconcile our inner nature in terms of the external world (do shadow work) that merely the attachment and desire and judgment in regards to our external reality changes.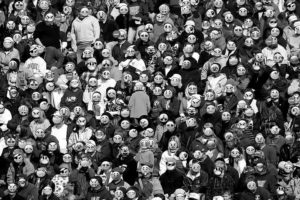 The first stage of any path– no matter if you are a "called" shaman, truly experiencing a kundalini awakening or spiritual awakening or not– is to look at that suffering, to look at those emotions that fill one within, to admit when something is not working in your life.
It is to become truly and vitally human, which includes experiencing and working with the emotions, gaining emotional intelligence, and meeting the world, and the people in it, for who they are (and not who we would like them to be).
To realize that others are suffering, have suffered, will suffer. We suffer in isolation, we suffer due to our paradigms pathologizing emotion, we suffer because the term mental illness is so stigmatized and so "othered" that we seek to brush those with that label to the side so as to not reckon with it in ourselves.
No matter how emotionally-mentally stable we are, the deep fear of the madman/madwoman, the realization that others do not recognize or submit to the rules of societal conduct and so are out of our control, is a shadow within ourselves that requires looking at.
Even if we are blessed with the type of mental-emotional health that allows for us to get through our days reasonably intact, we are so sick as a society that we revere quiet, we revere non-emotion, we create shadows of light that only make certain emotions and expressions of humanity okay.
No matter who we are, we have experienced trauma of some variety. We have suffered. Such suffering is not a contest, but shows us truly our humanity. It is part of being human, and such experiences should carry no stigma but be recognized as something that each one of us carry.
We are not static beings, and our definitions and pathologizing of mental-emotional imbalances means that we leech the humanity from those who have been defined as such. We lack recognition that beyond a very small contingent of society, who we are is in a state of flux, and those experiencing the depths of suffering, the depths of depression or anxiety or even psychosis can and do emerge out of the other side.
We have lost our reverence for feeling, for experiencing, and nowhere is this most exemplified than in many of the spiritual communities and in our outer, materialist society that teaches the deep feelers of this world to shut up, to wear a mask, and that silence is golden.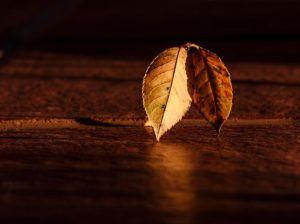 If we are able to recognize this societal sickness, to recognize the need for health on all levels– physically, mentally-emotionally, and spiritually– we can begin to work with what is out of balance in ourselves. We can recognize that one of those levels is not more important than the other– we need all to be healthy on all of those levels.
If something is out of balance, tending to it on the level that is creating the most difficulty (physical, emotional/mental, or spiritual) is necessary. 
While it sounds almost trite to say, if we are drowning in our lives it is an unfortunate factor that we must recognize that we are drowning. To recognize that such drowning will not be forever. That the rise in "rugged individualism" or belief that one must contend with things internally and alone is yet more societal sickness, and that those who are ashore, whether they be friends, family, or mind-body therapists of varying sorts, can help to pull us ashore, or at the very least hand us a life jacket.
That drowning is in no way shameful. No matter how grounded we are, no matter what labels we ascribe to ourselves, as humans we will occasionally be treading water, or drowning, and it is by realizing that as humans we all drown, or tread water at times, that we can begin to heal this collective shadow, to tend to our emotions, to recognize how societally sick we are in terms of anything beyond our physical/materialist health.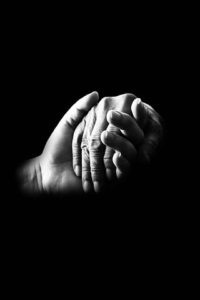 Krishnamurti once said that it is no measure of health to be well adjusted to a profoundly sick society and as we consider what societal conditioning wants from us,  what the paradigms of materialist health want of us, and the sort of illusions that many spiritual teachers and communities create, we can begin to have perspective of how direly our world, and the people in it, need to tend to their health on all levels.
It is by looking at the shadows created by such a system, by reconciling internally our othering of our emotions, ourselves, our inner madman/madwoman (and how we "other" those in our external reality) that we can begin to see one another as people, no matter what labels or masks we wear.
Such reconciliation of our inner humanity, such recognition of our suffering, truly seeing what is not working in our lives (as well as a healthy dose of understanding that our suffering at its depths is often fleeting, and realization of ourselves not as static creatures, but of ever evolving creatures, including emotionally) and by revering our emotions and what that little voice within us says when it speaks of hope, that we can move past our shame, move past our masks of being a warrior or being not in pain or not feeling, and realize that we are simply and definitively human.
Shared pain is lessened, trauma persists in isolation, one of my teachers said. Take care of yourselves, and realize that tending to your emotional health in such a sick society is an act of great courage, as is asking for support when needed.